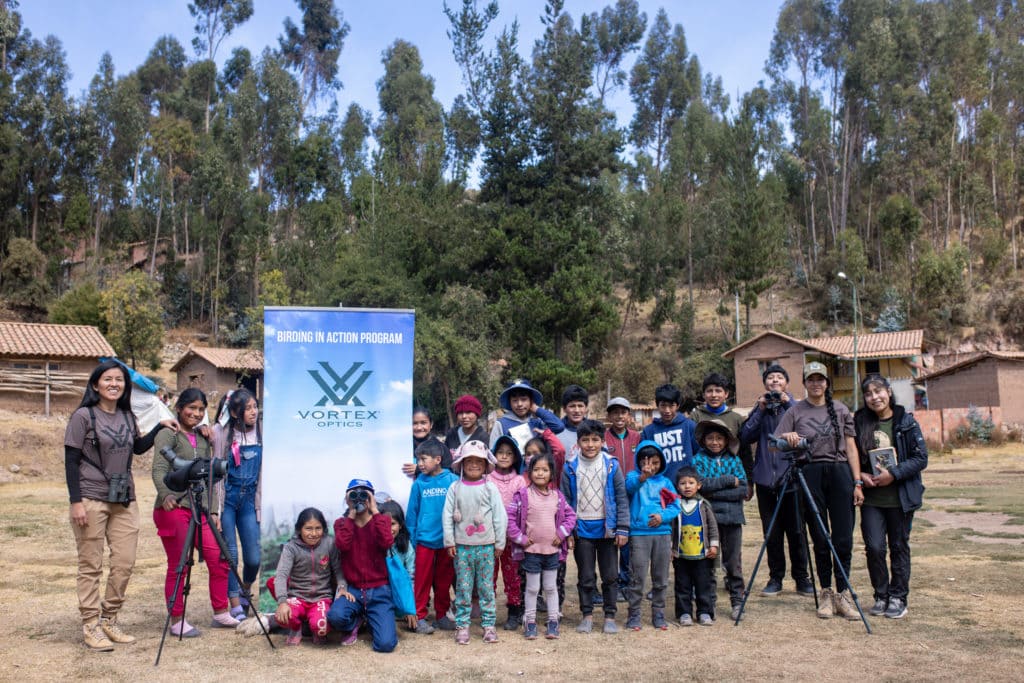 EMPOWERING WOMEN IN BIRDING & BIRDWATCHING IN PERÚ AND BOLIVIA
The Women Birders Program is created basically to empower women in the good practice of birding & Birdwatching in Peru and Bolivia. Through this program the women's community will be able to increase their leadership and conservation skills, this will also make a difference in their communities and it will be involved directly in the conservation of birds.
The Jacamar Club programs perform a series of activities as preliminary steps to environmental education, ecotourism ideas, and conservation of bird biotopes in Peru and Bolivia.
«Develop a group of women who have a strong sense of good practices in bird watching, in conservation with social responsibility, developing local action projects with the help of Jacamar Club»
«Conduct theoretical training and field trips to strengthen training in Birding and Birdwatching»
«Contribute to gender equality, as it is not just a development goal in itself, but an essential means to achieve all sustainable development goals»
«Develop programs and actions for environmental education and research led by the "Environmental Volunteer Program for Women Birders"
«Promote mutual understanding, empathy, camaraderie, respect, commitment, and collaboration between diverse cultures and regions»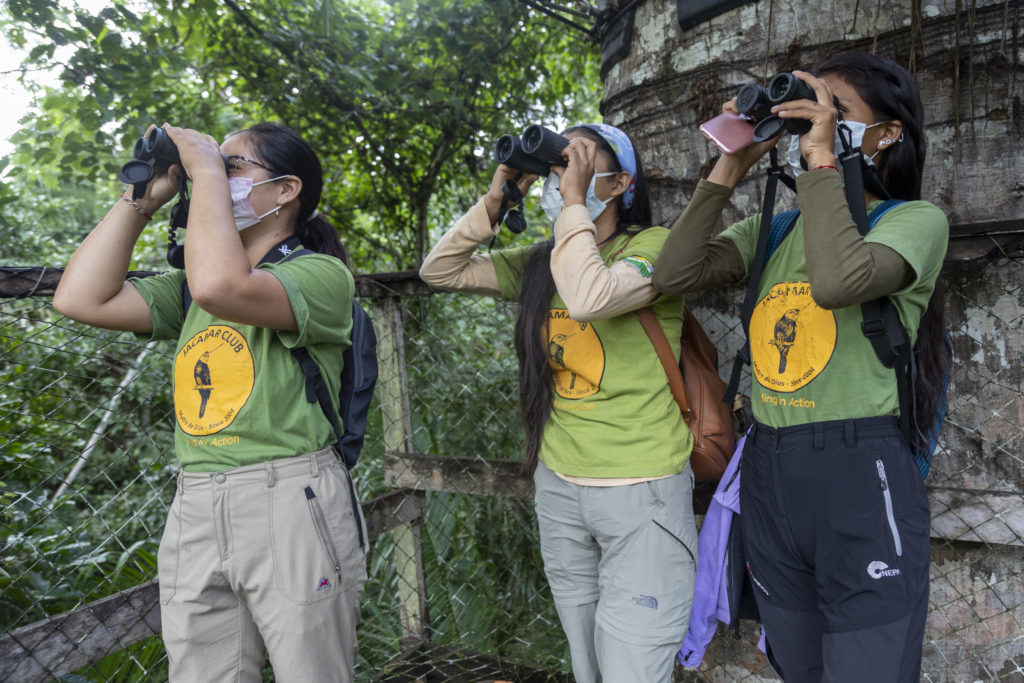 OBJECTIVES OF THE PROGRAM 2021
Melinda Valenzuela (Cusco – Peru)
Ruth Caviedes (Cusco – Peru)
Whendy Espino (Cusco – Peru)
Estefany Aguilar (Cusco – Peru)
Marycruz Mogrovejo (Cusco – Peru)
Nay Ruth León (Cusco – Peru)
 Neyssa Zuniga (Cusco – Peru)
Neysa Mena (Cusco – Peru)
Valeri León (Cusco – Peru)
Gina Anampa (Cusco – Peru)
Maria del Carmen Camasa (Cusco – Peru)
Fiorella Ucañani (Cusco – Peru)
Yessica Alcca (Cusco – Peru)
Candy Echevarria (Madre de Dios – Peru)
Yadhira Cavero (Madre de Dios – Peru)
Cecilia Borda (Madre de Dios – Peru)
Rosita Alvarado (Madre de Dios – Peru)
Angela Rafael (Madre de Dios – Peru)
Maria Gutierrez (Madre de Dios – Peru)
Junett Maldonado (Madre de Dios – Peru)
Janeth Chavez (Madre de Dios – Peru)
Cefora Huanaco (Madre de Dios – Peru)
Raquel Condori (Madre de Dios – Peru)
Eliz Quispe (Madre de Dios – Peru)
Geraldy Saravia (Loreto – Peru) 
Estrella Velásquez (Loreto – Peru) 
Irene Rengifo(Loreto – Peru) 
Paula Gálvez (Loreto – Peru) 
Garly Aliaga (Loreto – Peru) 
Lilian Malafaya (Loreto – Peru) 
Miluska Isuiza (Loreto – Peru) 
Karen Ríos (Loreto – Peru) 
Nelly Pinedo (Loreto – Peru) 
Odri Ferrufino (La Paz – Bolivia )
Nadia Ferrufino (La Paz – Bolivia )
Watch about our Activities
A field report of Activities
Huayllarcocha Lagoon and Santa Maria Reserve CUSCO - PERU
A field report of Activities
Chonta Ecological Center, Tambopata MADRE DE DIOS - PERU
A field report of Activities
The Manu Biosphere Reserve, CUSCO - PERU
A field report of Activities
Alpahuayo Mishana National Reserve, LORETO - PERU
A field report of Activities
Lucre - Huacarpay Lagoon Quispicanchi CUSCO - PERU
A field report of Activities
Lucre - Huacarpay Lagoon Quispicanchi CUSCO - PERU
A field report of Activities
Cattle Ranching Bello Horizonte, Tambopata, MADRE DE DIOS - PERU
A field report of Activities
San Pablo de Cuyana Community, LORETO - PERU
A field report of Activities
Atalaya Town, Kosñipata Valley Paucartambo. CUSCO - PERU
A field report of Activities
El Triunfo Wetland, Tambopata, MADRE DE DIOS – PERU
A field report of Activities
Yacumama Lagoon, Las Piedras Province, MADRE DE DIOS - PERU
A field report of Activities
Balcon del Diablo Sacsayhuaman, CUSCO - PERU
A field report of Activities
Inkas Amazon Lodge Km11.5 Tambopata MADRE DE DIOS - PERU
A field report of Activities
Sector Filipanteon - Aten Apolo LA PAZ - BOLIVIA
A field report of Activities
Tambomachay Forest and Huayllarcocha Wetland CUSCO - PERU
A field report of Activities
Cachuela Clay lick, Tambopata, MADRE DE DIOS - PERU
A field report of Activities
Canta Gallo and Nueva Esperanza Highway , LORETO - PERU
A field report of Activities
Camungo Tourist Center Las Piedras MADRE DE DIOS - PERU
A field report of Activities
San Pablo de Cuyana community LORETO - PERU
A field report of Activities
Lucre - Huacarpay Lagoon CUSCO - PERU
A field report of Activities
Pampas de Ancón LIMA – PERU
A field report of Activities
Global Big Day LIMA – PERU